We are upgrading our WAX mainnet producer nodes. Due to the problems we have seen over the last few months in maintaining a sufficiently fast response in block verification, we have opted for more powerful servers (Intel i9-12900K). Feel the latency diference!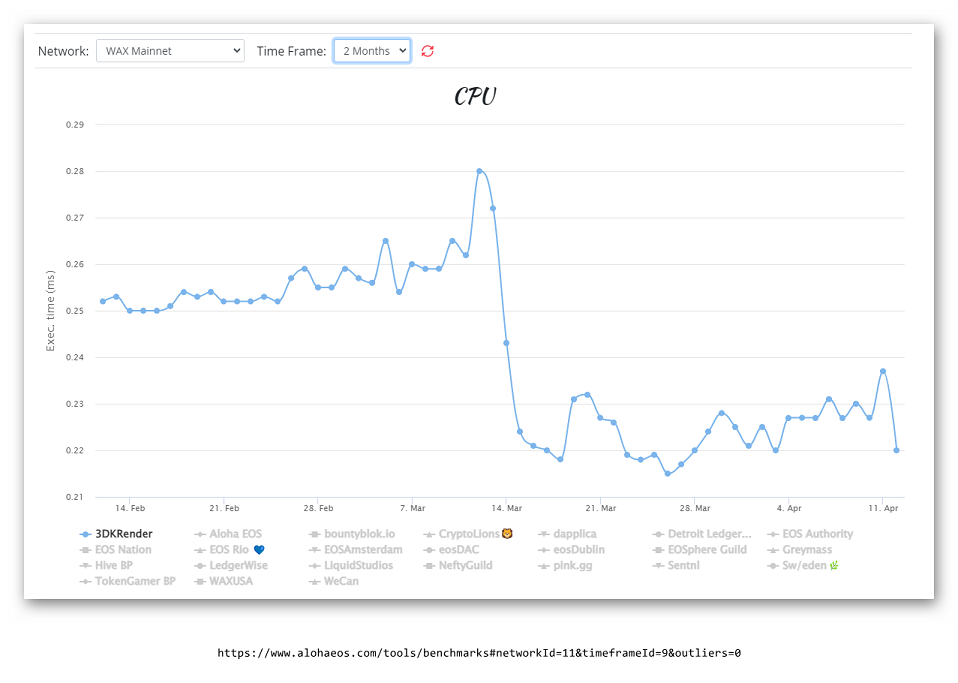 WAX Blockchain is growing a lot and the demands are increasing, but we are there to keep up the service!
Product Development
We have listened to you and are working on an improved version of Blenderizer. We will incorporate Fungible Tokens and random results for your blends. In addition, we are working on our own interface to accommodate all the new features.
Want to know some Blenderizer statistics?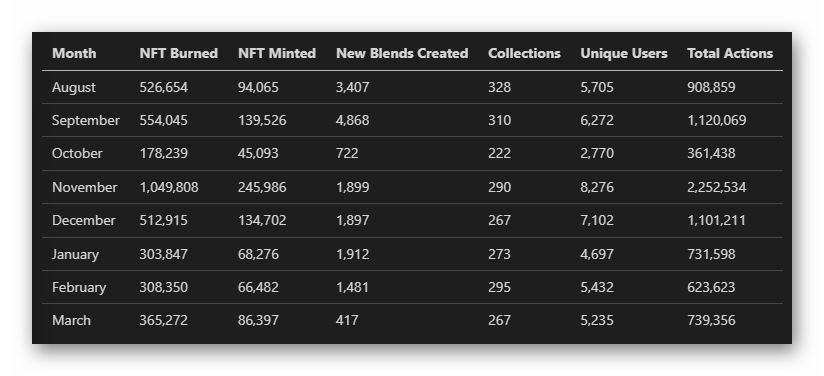 Rada Quest TCG
We continue to face delays caused by the failure of the CPU co-payment system. Our efforts are focused on the next release which will include the basic resource production and building improvement system.
In the meantime, players continue to participate in weekly mini-game tournaments through which they can accumulate useful in-game tokens as well as win prizes in WAX.
Daily Average Users: 174.2
Monthly Unique Users: 429
Minigames played: 3103
We have collaborated with several Twitch channels from communities coming from other blockchains, such as BSC, who are joining the WAX gaming ecosystem with the intention of raising awareness of Rada Quest and showcasing the viability of gaming projects on our blockchain.
The official Twitter game account continues to grow in audience and engagement:

Try the game at: https://game.radaquest.net
Discord Bot
We have started a project to create a bot for Discord. One of its first functions is to publish as a channel name the updated WAX prices (every 10 minutes). Currently the price of WAX is displayed against USDT, ETH and BTC.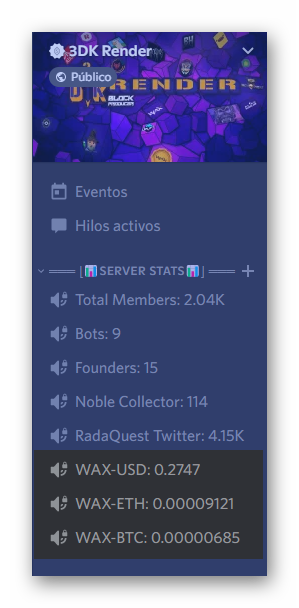 User verification
Subscription alerts
Wallet management (FTs and NFTs)
Contests
and more…
WAX Arena
We have hired a new developer to join the WAX Arena team. Thanks to this addition we are working on a complete redesign of the project.
During the last few months we have chosen to keep a low profile with this application due to the maintenance issues it has presented. We are very excited to be able to relaunch this project with new and improved ideas.
Urgent goals:
New user interface.
NFTs loading optimization.
Performance improvements and bug fixes.
Ecosystem Development
Blog post
We have started a series of articles to cover all the operations necessary to manage a collection of NFTs (AtomicAssets) from JavaScript. First post:
To come:
Schema management
Template management
NFT management (includes mutable data)
WAX-DEV documentation
We continue the collaboration with the WAX developer documentation with more Spanish translations and other revisions.
Social Networks
We continue to support and present new projects to the WAX community through our social networks.

Acknowledgements
We would like to thank the support shown by the community as well as reaffirm our commitment to continue working so that WAX Blockchain continues to grow.