Thielia (Dream Dancer) is a character from the Rada Quest trading card game. Rada Quest TCG is a fantasy role-playing game. It combines real-time strategy, builds, resource gathering, skill tree development, and tradable cards. You can access the project website here: https://radaquest.net/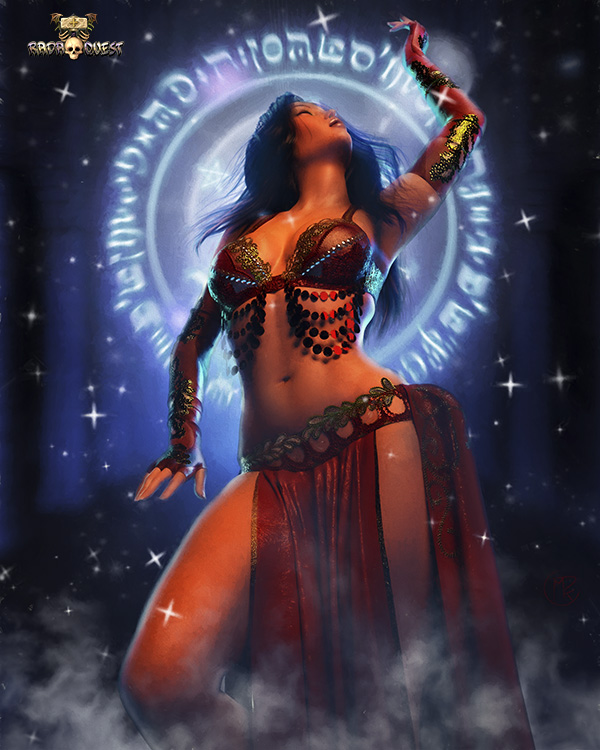 The illustration has been created with Daz Studio 4 and rendered with Iray. Daz Studio is a free 3D rendering program. You can download it from the Daz3d website. To create a scene you have to position the models on the stage, create lighting and place the camera.
For the creation of my scenes I use Daz Studio to obtain the base image and then I finish the illustrations with Photoshop.
Purchase this illustration
You can get this illustration in digital and ultra high definition format on the official Rada Quest website.
You can also get high quality prints in my Artstation store.
In this illustration I have used these 3D assets from Daz3D and Renderosity.
Aurelia for Genesis 3 and 8 Female
Aurelia is an enchanting new character for Genesis 3 and Genesis 8 Female!
Aurelia comes with detailed skin crafted on the Base Female UV set and custom sculpted HD Head and Body morphs built off the Genesis 3 Female. Options also included for Genesis 8 Female!
Andria Hair for Genesis 8 and Genesis 3 Female
Andria Hair for Genesis 8 and Genesis 3 Female(s).
This long straight hair with soft layers falls nicely down the shoulders with soft flicks of the ends in a truly contemporary style.
With 25 options for Movement, Styling and 18 Custom Fits for both the Genesis 8 and 3 Female(s) this hairstyle is versatile with movement. 26 natural and vivid colour options compliment this unique hairstyle and make it the perfect addition to your rendering library.
dForce Belly Dance Nights Outfit for Genesis 8 Female
dForce Belly Dance costume with a so oriental style, using the dForce dynamics engine.
What's Included:
Belly Dance Nights Outfit for Genesis 8 Female(s) (.DUF)
4 Colors for all the Outfit
10 Full Body Animations for Genesis 8 Female
10 Full Body Poses (single-frame) for Genesis 8 Female
Belly Dance Stage !! full with Lighting
Fantastic Lights for Daz Studio Iray
Fantastic Lights is a complete pack of lights and lots of extras, utilities and environments, 80 HDRI, Cameras that will be easy to render and will prevent much work trying to find the proper light, because in this pack are all possible lights for renders realistic and fantasy. A great product for your Library!
Learn to create illustrations with Daz 3D
(Udemy Course in Spanish)